Order by webshop, mail, phone/sms 073-9080613.
Collect outside Musteributiken Karlstad thur-fri 10-18, Gårdsbutiken Munkfors by apointement.
Pay in webshop or Swisch at collection.
Your webshop order can be collected at swedish DHL-partners or without freight charges in Karlstad/Munkfors
You can also shop safely at REKO-rings (Facebook) in Karlstad, Karlskoga, Kristinehamn, Arvika, Hagfors, Ekshärad.
TIME FOR APPLES
I am happy to buy your surplus of apples & pears! Even summer apples. Weigh in outside the store in Karlstad. Open Thurs / Fri 10-18. Please call if you have questions.
Apples 4.50 SEK/kg
Pear 5,50 SEK/kg
Booking for us making your juice from your own apples is open - see "Buying apples / Make juice".
Enbackens Musteri. Our beverages taste like You remember from the old days!
Enbackens Cidery is situated in Munkfors and Karlstad in beautiful Värmland. In both places You will find our shops.
The calendar shows on which markets You can find us. You can also buy our beverages on REKO-rings (Facebook), shops and my webshop.
The quality of the ingredients is most important, therefor we only use swedish fruit and berries matured as localy as possible. Our products are without artificial additives.
Many home gardens have a surplus of berries, apples and rhubarb wich we will be glad to buy. The beverage is pasteurized to last. Taste and colour can vary depending on the fruit at hand. The assortment will vary as fruit and berries are availeble. The remains of fruits and berries after extraction is turned into bioenergy in cooperation with Karlstad Energi.
Buying rhubarb from home gardens in Värmland. Apple season, buying apples. Customers make their own apple juice at our location. Sheep and lamb at our farm.
Enbackens Musteri won silver at SM i Mathantverk 2014!
Open swedish championship for food craftmanship took place 4–6 september 2014 in Växjö. In the category "Other bevereges" Enbackens Musteri from Munkfors reached SM-silver for its strawberrybeverage. The judgement of the jury was "Very tasty beverage with much swedish flavours, strawberries and apple". Enbackens Musteri became the only one with a top three place from the partcipants from Värmland. Totaly 141 participants from Sweden, Denmark, Norway, Finland and Åland where there to battle in 44 different categories.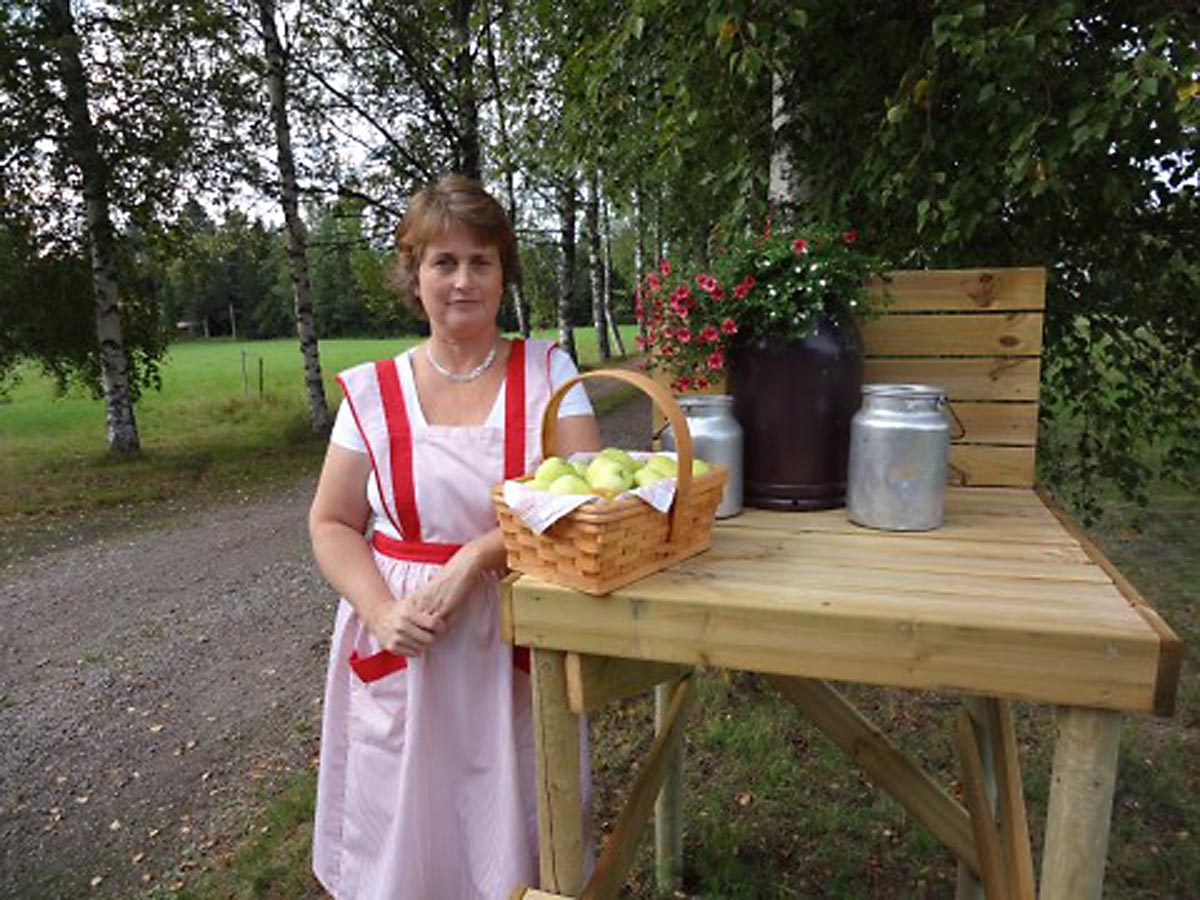 How i started Enbackens Musteri
I remember apple juice from my childhood when my grandparents whent to get juice from their apples. Now there aren´t many cideries left around where I have lived.
In september 2010 I visted "Apples day" arranged at Mårbacka just outside Sunne and ny idea was born.
There was a man demonstrating how to press apple juice. He did that in a rather small fruit press and You could get a taste of the fresh apple juice.

A very good idea to gather all the surplus of fruit, I thought to myself! During the years I have seen the windfallen apples in all the private gardens going to waste or beeing dumoed in the woods. You really want to process what is around You, rather than buying juice from far away with transport distances.
Now customers come to me to sell their fruit or make good apple juice, they even want to try to press juice themselves!